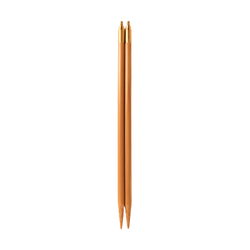 Seeknit Koshitsu interchangeable knitting needles 14 cm
Spend €100 more and get free shipping within Europe

Orders placed before 1 pm CET are shipped on the same day
Seeknit is Japan's oldest manufacturer of bamboo knitting needles. It is an old family-owned factory with proud traditions for craftsmanship and quality. Only carefully selected strong Japanese bamboo from special plantations in the Nara area is used.

Koshitshu is an ancient herbal bath and heat treatment that makes strong bamboo even stronger. Koshitsu provides a harder and stronger surface, which at the same time has the naturally soft feel of bamboo.
Read more
Interchangeable knitting needles of high-quality bamboo.

The needles are available in sizes M1.8, M2, M4, which fit the same size wire.
Wires are ordered separately.

Needle length: 14 cm.