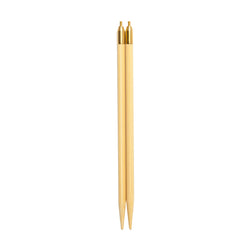 Seeknit Shirotake interchangeable knitting needle 14 cm
Spend €100 more and get free shipping within Europe

Orders placed before 1 pm CET are shipped on the same day
Seeknit is Japan's oldest manufacturer of bamboo knitting needles. It is an old family-owned factory with proud traditions for craftsmanship and quality. Only carefully selected strong Japanese bamboo from special plantations in the Nara area is used.
'Shirotake' is a bamboo knitting needle with less manufacturing process than the 'Koshitsu' Knitting needles. This creates a softer and more natural feel of bamboo, with a carefully polished surface and needle tip that provides for a smooth knitting comfortability.
Interchangeable knitting needles of high-quality bamboo available in size 2,5 mm - 10 mm. 
Needle length: 14 cm.
The needles are available in sizes M1.8, M2, M4, which fit the same size wire.
Wires are ordered separately.